If you're a provider who is listed on the Sawyer Marketplace, you'll see your locations displayed on the Sawyer Marketplace's Providers tab.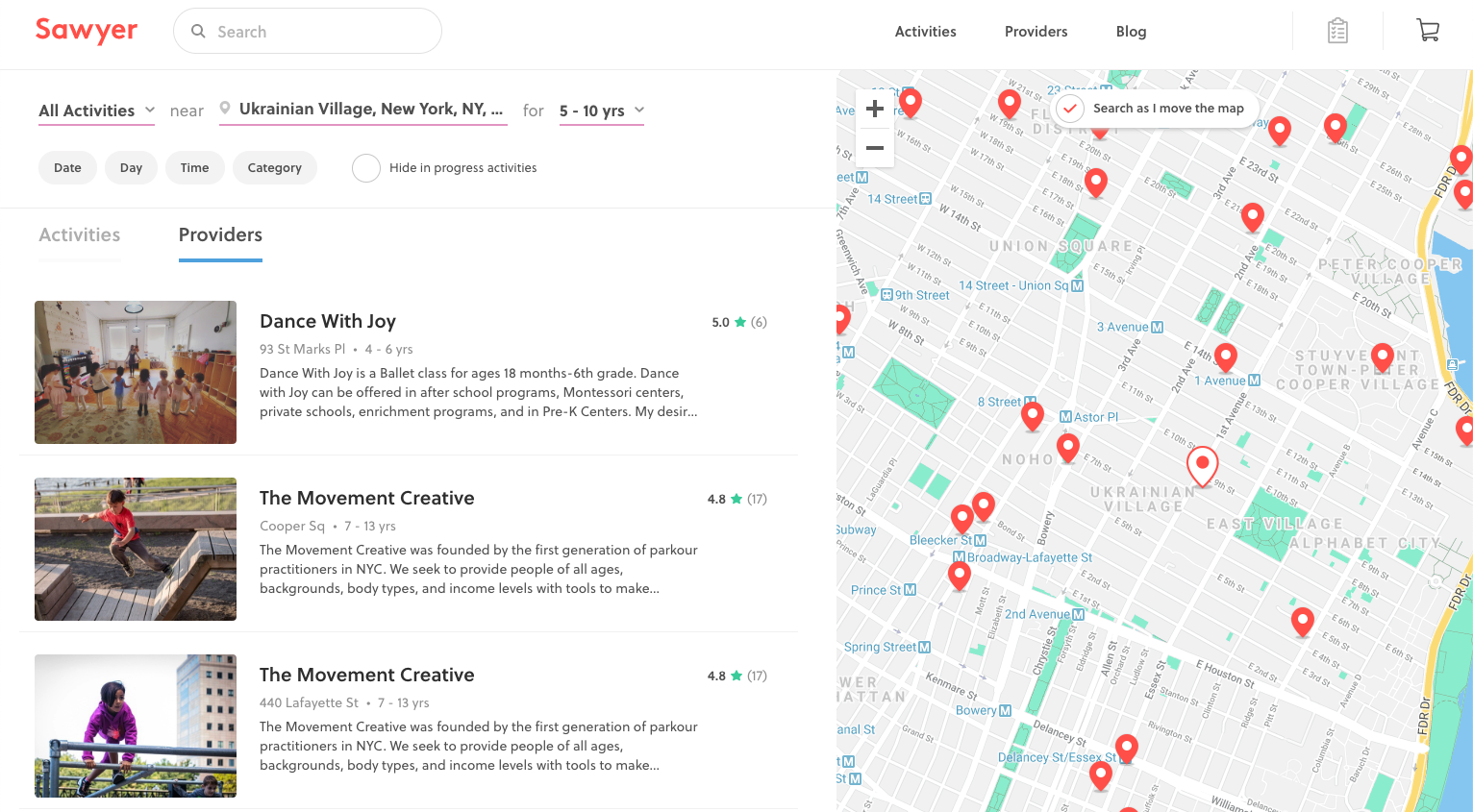 A unique provider location card will be displayed for every location that you have active. These location cards display your business name, your location address, your company description, your aggregate review star rating, and the primary age ranges that you serve. Most of these details can be updated in your business settings. If a parent clicks into one of these cards, they will be taken to your Provider Page.
Update Provider Location Card Details
How To Update A Location
Go to your Sawyer portal
Go to Listings > Locations
Click into the Location you want to edit or deactivate
Save any changes
How To Update Your Business Photo
Currently, the default image for your provider card is selected at random from your activity photos.
If you would like to upload a custom Business Photo to override the current selection, follow these steps:
Click on your business name in the top right of your account
Select Business Account
Scroll down to Business Profile
Upload a Business Photo
Scroll down to click Save
Important Notes:
You can only upload one image at this time. If you have multiple locations, the image you select will be featured on all of your locations that appear in the Providers tab.
When selecting an image, please consider choosing a bright image that shows off your space or clearly depicts an activity in action rather than your logo. Remember, this is often the first time a customer is discovering your business, so be sure to put your best foot forward when it comes to selecting an image. If you don't have custom imagery, review this blog post to find a free stock image. Feel free to reach out to marketing@hisawyer.com if you have questions or are having trouble choosing an image!
How To Update Your Company Description And Primary Age Range
Update your company description:
Click on your business name in the top right of your account
Select Business Account
Write a Company Description
Scroll down to click Save
Update your primary age ranges served:
Click on your business name in the top right of your account
Select Business Account
Add what ages you primarily serve
Scroll down to click Save