This feature is included in the Grow and Scale pricing plans. It is not included in the Launch plan. If you would like to upgrade your subscription plan or learn more about the different pricing tiers we offer, please visit Sawyer subscription plans and features here.
If you are a provider who went live prior to March 1, 2022, you will continue to have access to your current features as one of our legacy providers.

If a customer is on a payment plan or monthly billing cycle you can manage their installments in multiple ways on the customer's original order using these options below the Monthly Billings/Payment Plan Schedule section:
Change Date
Change the date an installment is scheduled to be charged to a future date.
Change Amount
Change the amount of an installment.
Cancel
Cancel the scheduled payment.
Refund (under Payment Activity)
Click this red button to create a partial or full refund to the customer.
As soon as you make changes to any of these items, the details will be saved. These options can be useful if you want to discount a future installment for a customer, if you want to give them a credit, if they've unenrolled in the program and more!
Monthly billing example: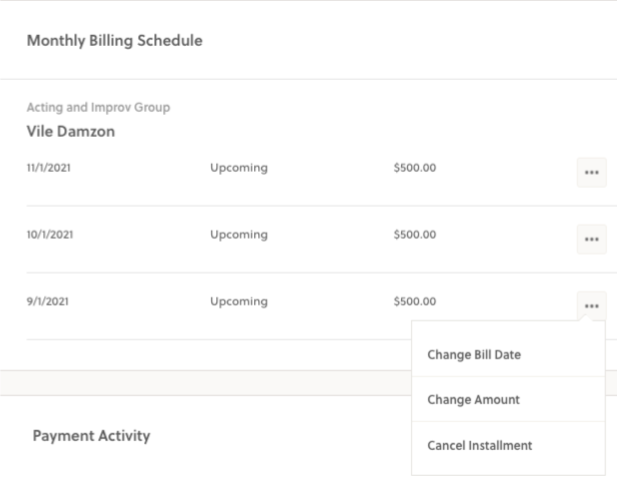 Payment Plan example: