When you cancel a single session of a scheduled activity, it will be removed from the schedule but leave the rest of the semester intact. This feature is designed for cancelling just one class out of a series, without preventing customers from signing up for the series as a whole. For example, this could be used in the case of a snow day.
If you chose to delete the entire scheduled activity, it will remove the schedule activity from all dates of the schedule. To remove every class session for a scheduled activity and prevent customers from signing up, refer to this short Help Center about how to delete a scheduled activity.
Note: You cannot delete a scheduled activity or change semester dates without first removing the students from the class!
To cancel a single day of class, go to the Upcoming tab, click on the class session, click on the three dots [...] next to the Message button, and select Cancel Session.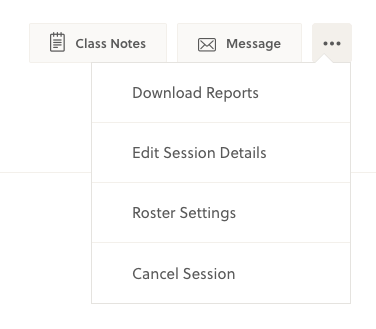 Canceling a class does not communicate to customers that it has been canceled and does not refund them. You can send a class-wide email using the Message button and issue refunds to each customer if you so choose.