This feature is included in the Grow and Scale pricing plans. It is not included in the Launch plan. If you would like to upgrade your subscription plan or learn more about the different pricing tiers we offer, please visit Sawyer subscription plans and features here.
If you are a provider who went live prior to March 1, 2022, you will continue to have access to your current features as one of our legacy providers.
The waitlist allows your customers to add their names to a list when a particular scheduled activity is full.
To enable a waitlist,
Go to Schedules and add or edit a scheduled activity
To the right of Total Capacity, drag the slider to the right to Enable Waitlist




Click Save & Continue
Once this scheduled activity is full, customers can join the waitlist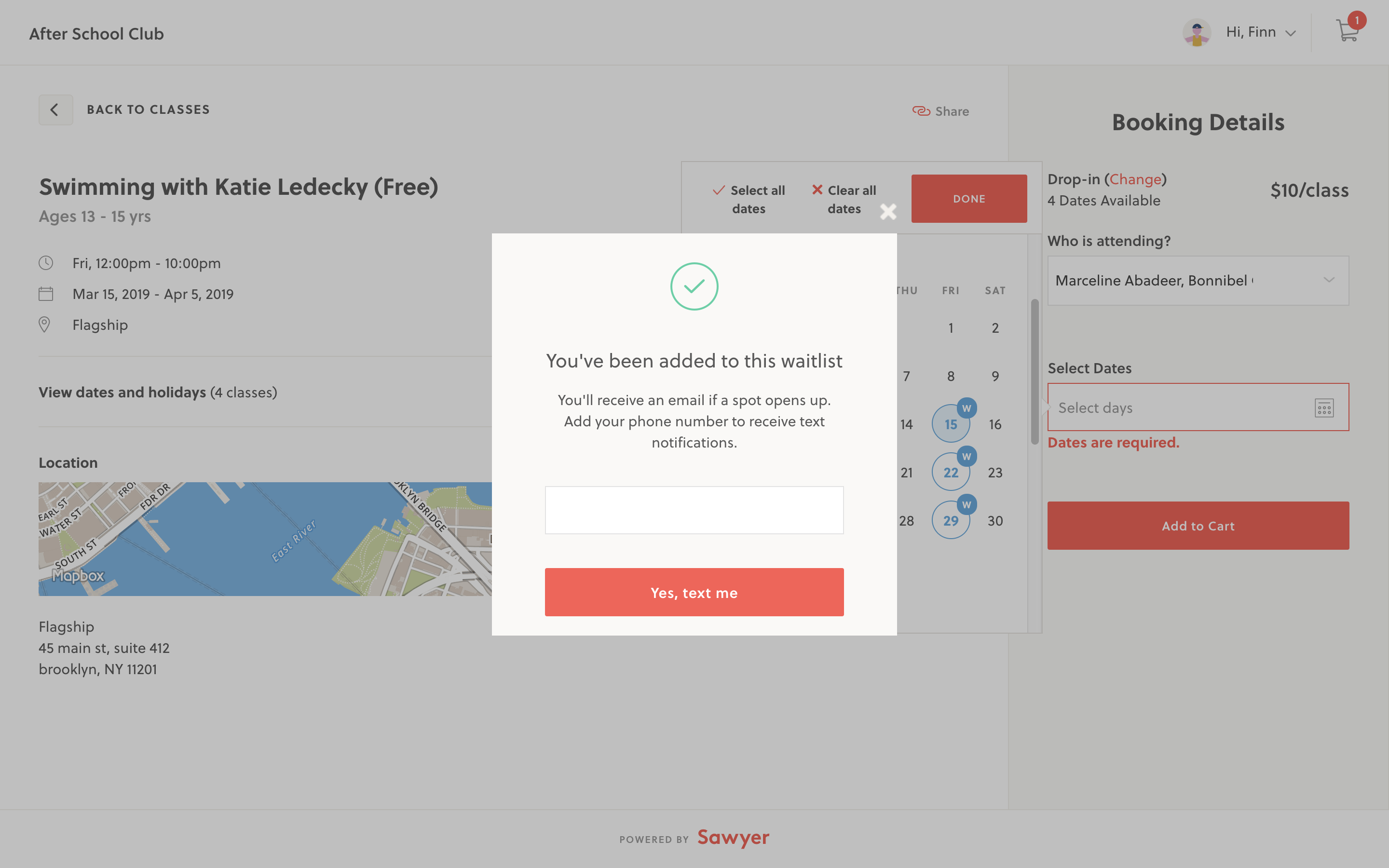 The waitlist feature lets you track interest that exceeds capacity but it does not regulate who gets to sign up if new spots become available.
When you open up a spot due to a cancelation, transfer, or capacity adjustment, you may want to message the first person on the waitlist (or download a roster waitlist report and email everyone) to let them know that a spot is available up but please also note the following:
New spots that become available on a roster that has a waitlist are not automatically held for waitlisted customers.
Instead, all available spots are first-come-first-serve, just the same as if the class did not have anyone on the waitlist. In short, the waitlist lets you know who is potentially interested but it does not prevent a spot from going to someone else who is ready to register if they find it first.

PRO: This makes it much more likely that you will fill any open spot.
CON: If you want to hold spots for those on the waitlist, you will need to take a few more steps.
Here are a few options for how to hold spots for waitlisted customers:
Option 1: Delay the adjustment until you have a taker. Before you open the spot (by canceling, transferring, or increasing the cap) contact the customer at the top of the waitlist to confirm that they're still interested, place an order on their behalf if so (the system lets admin orders override capacity), and then make the original adjustment.

PRO: This lets you take care of it quickly and never removes the activity from your widget so you can keep collecting more interested clients on the waitlist
CON: The client doesn't go through the checkout flow on their own


Option 2: Hide the scheduled activity. Hide the scheduled activity so new customers can't stumble onto it, then open the new spot, and finally send a direct link to the customer at the top of the waitlist to register on their own. (Or send it to everyone on the waitlist to increase the odds that the spot will be filled quickly!) Note that anyone who already has a direct link and happens to click on it would also have access to register.

PRO: Customer can register on their own
CON: Customer may not register right away or at all


Option 3: Lower capacity until you have a taker. First, lower the capacity of the scheduled activity; now you can remove the student without opening up a spot. Next, go down the waitlist until you find a customer who is ready to have you place an order on their behalf.

PRO: This lets you take care of it quickly and never removes the activity from your widget so you can keep collecting more interested clients on the waitlist
CON: The client doesn't go through the checkout flow on their own